Ayumi

Ayumi

Nihongo

あゆみ

Name meaning

Walking Beauty

English TV

Ayumi

Biographical information

Birth

c. 1982

Age

15 → 18 (Three years later)

Status

Studying at College

Occupation

College Student

Physical information

Species
Gender

Female

Eye color

Brown

Hair color

Black

Skin color

Pale

Affiliation

Team

Debut

Manga Debut

InuYasha Anime

Movie Debut

Voice Actors

Japanese Seiyū

English VA

The InuYasha Wiki has 6 related images
Ayumi (あゆみ, "Walking Beauty") was one of Kagome's three best friends in modern-day Japan. She's the only one of her friends who has always supported Kagome and Inuyasha's relationship.
Personality
Edit
Ayumi was the most naive and gentle of the group of Kagome's friends. Unlike Eri and Yuka, who felt that Kagome's 'delinquent boyfriend' was bad news and were thus constantly encouraging Hōjō on his romantic pursuits of said time-traveling schoolgirl, Ayumi was almost always shown as supportive of the couple. Some of this was, of course, due to her innocent demeanor and optimism. However, she does believe that Kagome truly was in love, and that because of this any problems the couple might stumble upon may be overcome.
However, there have been times where she does side with Yuka and Eri about Kagome's relationship with Inuyasha where on a few occasions she does believe him to be a delinquent. But, after finally meeting Inuyasha for the first time she went back to fully supporting their relationship and in the process Yuka and Eri had completely changed their opinion of him and now start to support Kagome's relationship with him.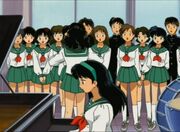 She was shown to have an interest in song, acting as the maestro to her school's choir performance during the cultural festival. She is also the only one of her friends who seems to enjoy school. Yuka also says that she always has done well in school.
Physical description
Edit
Ayumi has wavy shoulder-length black hair and brown eyes. She wears the same uniform as Kagome.
Manga vs. Anime
Edit
Ayumi is not present with the rest of Kagome's friends in the earlier chapters of the manga. It isn't until Chapter 287 that she starts appearing with the other girls more frequently. In the anime, the only time Ayumi is not seen with the rest of Kagome's friends is Episode 12.
Ayumi, Eri, and Yuka were all names given to the girls by Sunrise, the anime company who produced the series. Rumiko Takahashi never officially gave the 3 girls names in the manga. However, she did name Hōjō.
Despite her name not being mentioned in the manga, Eri's and Yuka's name are somehow shown in the InuYasha profile book.[1]
After she graduated high school, Ayumi revealed that she would study to become an Interpreter.
Ayumi has the same Japanese and English voice actresses as Kokichi. She also has the same English voice actress as Mama Higurashi.
Media appearances
Edit
References
Edit