Until the Eyes Open

Volume 4 - Scroll 8

← Prev
Chapter 36
Next →

Chapter information

Rōmaji

Me ga Aku Made...

Nihongo

目が開くまで

Pages

18

Frames

80

Corresponding

Story and Art by Rumiko Takahashi
Until the Eyes Open is the 36th chapter of the InuYasha manga.
Sōta
explains to
Kagome
what happened to his friend Satoru. When he and his friends visited Satoru last time, they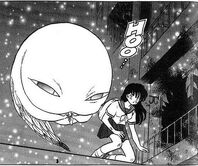 were haunted by the spirit of little girl who almost got them into a car accident. The ghost is Satoru's sister
Mayu
who died six months ago. The next day Sōta and Kagome visit Ikeda's house where
Mayu Ikeda
died. Mayu came to haunted Kagome and Sōta which Kagome realized that girl is Mayu's ghost claimed Kagome that her mother abandoned her for saving Satoru's live which led her death.
Characters in Order of Appearance
Edit
Community content is available under
CC-BY-SA
unless otherwise noted.