The Two Worlds

Volume 50 - Scroll

← Prev
Chapter 494
Next →

Chapter information

Rōmaji

Futatsu no Sekai

Nihongo

ふたつの世界

Corresponding

Story and Art by Rumiko Takahashi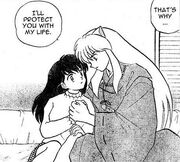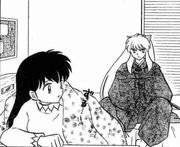 The Two Worlds is 494th chapter of InuYasha manga
Kagome returns to the modern era as Inuyasha told Kaede about Kikyō's final moments before her second death.
When she came her home, Kagome realized that her family went on vacation and made her dinner for her herself.
Inuyasha gave arrows to Kagome and talked about Kikyō's death before they had almost kissed.
Characters in Order of Appearance
Edit