Jurassic World: Dominion Dominates Fandom Wikis - The Loop
Play Sound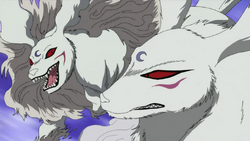 Inu yōkai (犬妖怪), or dog demons in the English dub, were humanoid shape-shifter demons with characteristics of dogs. All known dog demons are incredibly powerful. Although they spend most of their time in human-like forms, they have the ability to revert to their true forms, those of giant dogs.
Abilities
Dog yōkai are one of the most powerful species of yōkai seen in the series. They possess a wide array of powers and abilities and all pure blooded dog yōkai shown are daiyōkai, the strongest type of demon there is. Inuyasha is a half-demon, but even he possesses great strength beyond those of average yōkai. A dog yōkai's most prominent skill is their ability to take on human forms which allows for easier interaction with humans and smaller demons. They have incredibly long lifespans and are immune to all forms of diseases and strong purification powers which may be fatal to regular demons. They can master a variety of magical and mystical abilities, such as creating acid, generating lightning, flight, teleportation, psychic powers and strong yōki. Like regular dogs, they have heightened senses, most notably scent. They also have superhuman strength, speed, durability and reflexes, making them excellent fighters. Powerful swords can be forged from their fangs which possess incredible power beyond those of any ordinary blade; Sesshōmaru has also shown that he has the ability to create a powerful sword from his own body.
According to Setsuna, their species are able to sniff out demonic energies from great distances.
Due to their connection to the Windmill of Time, members of the clan are able to see the spirit Akuru whereas others cannot.
List of Dog Yōkai
Full-Blooded
Half-Demons
Quarter-Demons
Humans associated with the clan
Trivia
References