A Wicked Smile; Kikyo's Wandering Soul is the twenty-second episode of the InuYasha anime. It first aired in Japan on April 9, 2001.
Synopsis
Inuyasha and the others learn that souls of dead women are being stolen from their bodies.
Kikyō proves to be the culprit, using these dead souls to animate her body.
Kagome finds Kikyō, whom she and the others had believed to be dead.
Summary
Kikyō, who survived her encounter with Inuyasha, lives peacefully in a village, but must steal the souls of the dying to maintain her presence in the world, which alarms one of the village girls when a monk named Seikai is killed by the shrine maiden when he tries to save her soul. Meanwhile, Inuyasha, Kagome, and their friends investigate girls losing their souls, which inevitably leads them to Kikyō.
Characters in Order of Appearance
Notes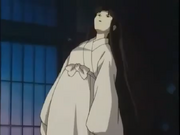 Episodes 21 and 22 originally aired together as a one-hour special.
The deceased princess' white kimono's collar was in opposite position rather than "y" shape (if viewed it from the front). According to Sinosphere's culture, once somebody dressed it in opposite collar, it showed that the person had died.
Differences from the manga
Though picking up from the previous episode, the anime excludes Inuyasha telling Kagome he wants her to stay by his side before she goes back into the well again.
The anime adds an extra scene of Inuyasha being suspicious of Miroku's reasons for staying at the manor, as well as a group of women bringing them a feast.
The anime leaves out Seikai asking around the village about abnormalities before happening across Kikyō.
The anime omits Inuyasha ordering the group to stay behind so he can search for Kikyō on his own.
Community content is available under
CC-BY-SA
unless otherwise noted.