Jurassic World: Dominion Dominates Fandom Wikis - The Loop
Play Sound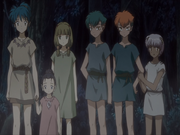 A hanyō (半妖, "half-demon") are supernatural beings that are a hybrid between human and yōkai. Hanyō are usually the child of a yōkai and a human, though humans can be transformed into hanyō. Due to their dual nature, hanyō are often subject to prejudice from both human and yōkai societies because of the mutual hatred between both respective species.
Creation
There are two different ways to become a hanyō:
It is more common for someone to be born hanyō than to be artificially transformed into one.
Society
Hanyō are shunned both by humans and by yōkai. The miko Kanade built a Cauldron of Resonance with a magical barrier around Hōraijima, because she knew that the hanyō children would only undergo suffering from both humans and yōkai.
Humans often believe that yōkai are dangerous and bloodthirsty monsters that kill humans without provocation. Sometimes the mere sight of a demon is enough to make humans flee in fear. Also, humans generally believe that hanyō are just as bad. For this reason, a hanyō is not welcome in a human village, and is often beaten and abused, as was the case with Shiori and Jinenji, who suffered numerous scars from the abuse. Even the fact that the hanyō is being raised by a human parent, who would teach them to never harm humans unless to protect their own lives. Sometimes a hanyō, however, also manages to be accepted by a human village, like Inuyasha and later Jinenji.
Yōkai despise hanyō, however. They also despise humans, and see a hanyō as an insult and weakening of their power. Yōkai even despise hanyō that are related to them, as Sesshōmaru did with Inuyasha, and Taigokumaru with Shiori. Sometimes they even want to kill hanyō for the very reason that they are hanyō. So Inuyasha was repeatedly attacked by low-tier yōkai, which resemble huge worms and beetles, whereas the Shitōshin have attacked Hōrai Island. Nevertheless, hanyō can make friends with benign yōkai, like Inuyasha and Shippō, or win the respect of evil yōkai, as was the case with Izumo and Orochidayū.
For this reason, the Shikon Jewel is interesting for many hanyō, because it can turn them into pure yōkai or pure humans. Some hanyō want to become demons, like Inuyasha at the beginning of the plot, and Naraku, because they get stronger and are respected by other yōkai. Others, like Izumo, want to be pure humans so that they can live in peace among other humans. But there are those who are content to be hanyō, like Jinenji, or Inuyasha at the end of the plot.
Setsuna and Towa have not had to deal with this bigotry however. Setsuna was accepted by Kohaku's demons slayers and Kaede due to her being Sesshōmaru's daughter while Towa was raised in the modern era, where odd traits are quite common, since Kirinmaru's sister Zero found them when they were 4 years old and ordered Homura to set the forest on fire, which caused the twins to be separated. Kaede's village is also accepting due to the fact Inuyasha lived there. As for Moroha, she was raised by the Wolf Demon Tribe since Hachiemon took her away from Kaede's village because Kirinmaru tried to kill her. All three are unique due to their connections to Inuyasha's group.
So that at least half-demonic children can grow up safely, Shiori founded the Hanyō Hidden Village as an adult, where she takes them in as children, teaches them to do arithmetic, write and read, and let them grow up until they are strong enough to survive on their own and even allow human to accept them.
Physiology and Psychological Characteristics
Even at birth, hanyō show physical signs of their yōkai roots (e.g. unusual eye or hair colors, abnormal skin tones, and even physical abnormalities). For example, Inuyasha had silver hair and dog ears, a trademark of his inu-yōkai heritage, and the hanyō children of Hōraijima had unusual hair colors and physical peculiarities (i.e. pointed ears or horns). While hanyō can be born with rather human-like features, there are some like Jinenji who are far more "monstrous" in appearance. In some, rare cases, there are also hanyō, which look purely human during the day, and become pure demon at night. Certain hanyō can even display unusual mannerisms and characteristics that pertain to their demonic heritage; for example, Inuyasha was known to perform dog-like actions (i.e. getting down on his hands and knees with his nose to the ground, using his foot to scratch his ear, playing fetch, shaking himself dry, and even growling).
The unnatural type of hanyō, formed by the merging of humans and demons, have almost completely human forms due to being originally human. However, their true form is primarily an amalgamation of demons fused together because they are essentially a colony of demons inhabiting a human body.
Powers and Abilities
The strength of hanyō is remarkably varied, though they are normally stronger than ordinary mortals and more powerful hanyō can even stand on equal ground with full-fledged demons. Apparently the extent of a hanyō's power is a reflection of the power of their demonic parent. For example, the hanyō Inuyasha was exceptionally powerful, being the son of a powerful daiyōkai, and as an adult could dispatch most low-tier demonic foes with ease. It is noteworthy that hanyō as children are already very strong and resilient. So Dai could effortlessly break a branch that was as thick as a human arm, while Shiori fell from a great height and remained completely unharmed.
Weaknesses
Known Hanyō
By birth
Tōga's bloodline/dog hanyō
Various hanyō
By unnatural means
Trivia
See also