Midoriko

Midoriko

Nihongo

翠子

Name meaning

Green Child

Viz Manga

Midoriko

English TV

Midoriko

Biographical information

Death

Dissolved by Naraku's wish

Status

Deceased

Occupation

Physical information

Species
Gender

Female

Eye color

Brown

Hair color

Black

Skills information

Abilities

Purification
Master Swordmanship

Weapons

Affiliation

Team

Debut

Manga Debut

InuYasha Anime

The InuYasha Wiki has 18 related images
Midoriko (翠子, みどりこ, "Green Child") was an extremely powerful miko who created the Shikon no Tama in order to eliminate the wicked demon-of-demons. Once in doing so, she had forced out not only the demon spirit, but her own soul as well, which is the Shikon Jewel. She represents the purity of the Jewel called Naohi.
Midoriko lived centuries before the events of the series, during the Heian Period of Japan[1], when the shoguns served as de facto rulers over most of Japan. As a priestess, Midoriko was well known for her vastly strong spiritual abilities, more specifically her ability to purify demon's souls and spirits, rendering them completely powerless. It was because of this ability that she was both hated and feared by demons. At some point of her life, a mortal man secretly desired Midoriko and many vengeful yōkai possessed him.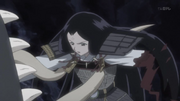 In her final battle, Midoriko was ambushed by many yōkai. The battle lasted for seven days and nights and eventually a dragon yōkai captued her in his jaws. In one final attempt to defeat the demon, she pulled his soul into her body - fusing it with her own soul - and then expelled them both simultaneously along with her heart.
Both the demon and Midoriko died, but their souls combined to give birth to the Shikon no Tama. The two remained imprisoned within the Jewel and continued to battle ever since. Being the light of the Jewel, she can move freely even in the evil part, while her great enemy can't do the same in the good part, as he would be purified instantly as he was no longer protected by the darkness.
During the story
Edit
Although many years have passed, her body exists (in crystallized form in the anime, as a mummy in the manga) in the Yōkai taijiya village. She was first seen when Sango explained to the group how the Jewel was created. She made a cameo, in which she saved Myōga, though it could just have been Myōga seeing things.
Midoriko's soul is later called upon by
Kikyō
to help purify her wounds from Naraku after they had re-opened. Kikyō figured that since they were alike souls in the sense that they were both miko who fought yōkai and wanted the jewel to be purified that she would help Kikyō. After Kikyō's wounds were successfully healed by Midoriko's power, Midoriko herself was able to erect powerful
barriers
to prevent
Inuyasha
's group from following Kikyō and Kohaku, who through his jewel shard she ordered to go after Naraku.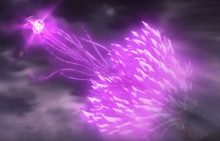 Midoriko begins to enact her will in Kōga's shards and regularly stops his legs from moving in order to allow him to be captured by his enemies like Mōryōmaru and Naraku in an attempt to purify them. In Kikyō's final battle with Naraku, Midoriko remotely purifies Kōga's shards so that when Naraku captures him in the battle Naraku would take the purified shards in and then Kikyō could do her part and purify the jewel and Naraku at once.
However, Naraku noticing the effect the purity of Kōga's shards had on his body even when he slightly touched him gave him enough reason to hide his jewel in Kikyō so that when he fully took the shards once he captured him he wouldn't be purified which unfortunately worked. Once Kikyō's final plan was defeated and she died at Naraku's hands it seemed that the plan had failed, except for the small light in the jewel and Kohaku's shard which still remained.
At the end
Edit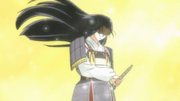 When Inuyasha entered the jewel, he finally saw Midoriko herself and witnessed her to help him fighting and defeating a huge amount of demons that form the Demon of the Shikon Jewel. Then, she disappeared in a huge light flash and never returned.
In the manga, although it is not directly explained, the yōkai's wish made by Naraku dissolved forever her soul in order to prepare the new place for Kagome. In fact, immediately after her disappearance, the demons tell very clearly to Inuyasha that her battle with them has lasted for the hundreds of years since the Shikon no Tama was born and Kagome will continue it from here. Furthermore, as soon as the light dies, the huge spider web with Naraku's dead soul instantly appears. Then, with her final death, Inuyasha became her true successor in the ancient fight against the demon, though Kagome was still essential to destroy the Shikon Jewel through her wish.
Instead, in the anime version, after Kagome makes her wish to destroy the jewel and also stop its plan to replace the demon and Midoriko with Naraku and herself, Midoriko ceased her fighting and disappeared along with the demons she fought, implying that her battle had finally ended and she was allowed to move on to the afterlife.
Powers & Abilities
Edit
Relationships
Edit
Manga vs. Anime
Edit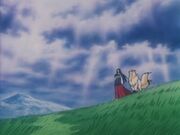 Media appearances
Edit
References
Edit