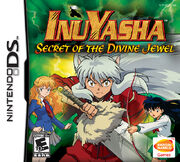 InuYasha: Secret of the Divine Jewel, released in North America on January 23, 2007, for the Nintendo DS, is an RPG game developed by Frontier Developments and published by Namco/Bandai Games America, Inc. Once again, Inuyasha and his friends are off on another adventure through the Warring States Period.
Janis was a student who had transferred from the United States, living in Japan for the second time (explaining how she can speak Japanese right away). She was forced to move back after her father had yet another job transfer. It was in a present-day in Japan where she met Kagome Higurashi. The two became fast friends. One day, Kagome was absent from school and Janis goes to check on her. Soon after she reached the Higurashi Shrine, she was attacked by a demon and she almost get killed by it. Janis was rescued, by a priest wearing a mask named Sen (or Monk Sen). He told her that her destiny lies on the other side of the Bone Eater's Well. In the Sengoku Era, she is reunited with Kagome and the others. Something strange happens though. She touches a sacred jewel shard and it melts into her body. According to Monk Sen, Janis possesses a divine power called Kamuitama, and says that she was the daughter of Kamui. The shard inside Janis was undetectable by Kagome. Janis joined the others in a quest to return the Kamuitama to the one who previously bore the power, a god known as Datara. Only then will she be able to remove the shard and get rid of it by the power that makes her a target for demons.
Gameplay
Edit
Battling the hordes of monstrous demons with an intuitive command-based control scheme. The CFS (Cover Fellow System) will let you work together with your traveling partners of choice in fighting the enemies. And under the full moon, Inuyasha turns into a full human and lose his demonic power.
Characters
Edit
Secret of the Divine Jewel has a turn based battle system, where each character in the player's party takes a turn attacking, guarding, using items, or escaping. It also has a character development system, where the characters gain experience to level up and become more powerful. When not battling, the player is free to roam around the map or continue with the story and move on to his or her next objective
Resources
Edit
Community content is available under
CC-BY-SA
unless otherwise noted.