Jurassic World: Dominion Dominates Fandom Wikis - The Loop
Play Sound
See also: Shikioni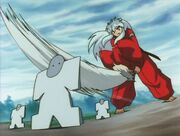 Shikigami (式神, "Ceremony God") are a kind of spirit summoned to serve a practitioner of onmyōdō. Some are used as charms for good fortune, some are used as amulets for protection, and some are used as curses. Shikigami usually remain invisible or disguised to human eyes, although those with spiritual powers can normally perceive them. Their power is connected to the spiritual force of their master, and they can take a variety of human or animal forms, possess or bewitch people, and even cause bodily harm or death.
Throughout the Series
In InuYasha, the shikigami came in the form of Tsubaki's serpent and Kikyō's two girl-shaped attendants, Kochō and Asuka.
They were also used by Momiji and Botan to send small paper-sized men towards Inuyasha and his crew. When they returned with a hair strand from Inuyasha and Kagome, the priestesses were able to transforms two of their shikigami into larger versions of Inuyasha and Kagome. These shikigami were able to somewhat replicate Inuyasha and Kagome's powers. However, the transformed Shikigami were unable to replicate the powers of items they were carrying.[1]
In Yashahime, Konton have the shikigami for the Tao magic with his servants Wind Lion and Thunder Lion, even to create the a giant Blue Ogre that ended up devouring his head.
Trivia
References
See also